On December 5, 2018, UNI Logistics Xiamen received the arrival of Yu Fengzhen, team leader of the China Quality Certification Center (CQC) Audit Team, and Shen Liying, the team member. UNI logistics passed a one-day on-site audit and finally passed the CQC certification audit with the active cooperation by all departments.
During the day, Ms. Lu Yun, Executive Deputy General Manager and Yu Fengzhen, CQC team leader conducted an in-depth discussion on the current domestic and international situation, and analyzed the current opportunities and challenges in light of the current situation of the group and its subsidiaries. Through this ISO9001 certification audit, the risks and opportunities in the operation of the quality management system are fully identified, evaluated, and analyzed again, which plays a vital role in strengthening the company's internal and external management.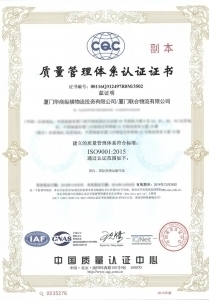 The company will further standardize the operation of the quality management system, improve service awareness and service quality; strengthen the operation management of the system, strengthen internal audit and management review, and improve the system performance. Meanwhile, reinforce the supply chain construction and management, and brand building. It lays a solid foundation for the realization of the vision— "Globelink Serves Global Forever".