As the epidemic continues to spread around the world, many countries restrict flights / trains / ships, close all or part of border crossings or strengthen quarantine. By April 10, a total of 124 countries (regions) restricted flights / trains / ships, 71 countries (regions) closed all or part of border crossings or strengthened quarantine. Facing various difficulties, how to transport foreign trade imports and exports?
Logistics Solution helps freight flow
——The work resume rate of China – Europe Block Train Ferry has reached more than 90%.
Picture: Notice from the Ministry of Commerce (click on the big picture for details)
The development of foreign trade is inseparable from the smooth and efficient logistics services. Since March, China Railway has encountered and overcome numerous difficulties, optimized transportation solutions, opened green channels, and turned "crisis" into "opportunity." The number of China-Europe trains has returned to the normal status before the epidemic by stable and continuous transportation capacity, it has become the main channel for international transportation, ensuring the smooth flow of global logistics channels, promoting economic and trade among countries along the railway, and assisting production resumption.
At present, the Central Europe (Xiamen) train has opened three parallel train routes of Central Europe, Central Asia, and China and Russia, passing through 12 countries and more than 30 regions. By March 20, China-Europe (Xiamen) trains have opened a total of 54 trains, including 28 trains in Central Europe, 9 trains in Central Asia, 17 trains in China and Russia, carrying 4956 TEUs, with a total value of $ 187 million. In order to further support the expansion of China-Europe (Xiamen) trains, Xiamen Customs recently introduced 12 measures to support the development of train ferry, including simplifying logistics circulation procedures, promoting the convenience of customs clearance for emerging businesses, and importing vehicles and agricultural products, cold chain import & export and other newly emerging logistics with customs clearance facilities, and continue to expand the " Secure and Smart Trade Line Pilot Program, SSTL) " on the China-Europe train. So far, China-Europe trains have shipped a total of 334,800 pieces with 494 tons of epidemic prevention materials, covering Italy, Germany, Spain, the Czech Republic, Poland, Hungary, the Netherlands, etc.
To ensure the timely delivery of anti-epidemic materials to the front line, UNI Logistics has launched the following transportation routes between China and Europe, providing the highest priority protection for cargo transportation.
Wuhan → Mara, Hamburg, Duisburg
Hefei → Hamburg, Duisburg, Warsaw, Helsinki, Tilburg
Xi'an → Hamburg, Duisburg, Warsaw, Tilburg, Milan, Prague, Budapest, London
Chengdu → Warsaw, Rotterdam
Zhuzhou → Moscow
Changsha → Moscow, Minsk
Nanjing → Moscow
Suzhou → Moscow
Yiwu → Minsk
Xiamen → Mara, Hamburg, Duisburg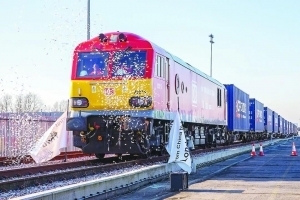 Contact Us
Ms. Lois Lin
Email: xmnmmtmktmng@unilogistics.com.cn
Tel: + 86-18120764929
Ms. Miya Wu
Email: eucisdmng@unilogistics.com.cn
Tel: + 86-18150103606
Official website: http://unilogistics.com.cn/